Shilajit Hair Masks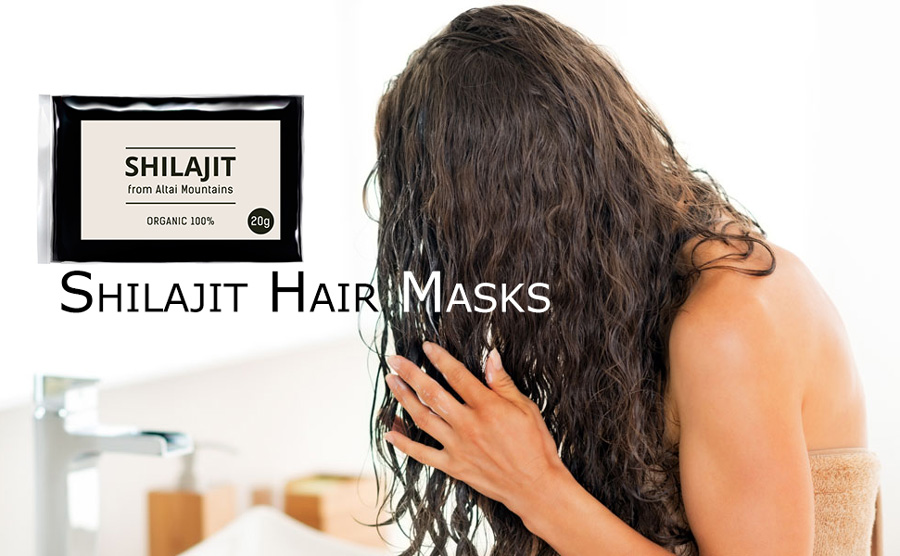 Hair Masks with Pure Shilajit Resin have a very effective form of nourishing and healing effect on hair which lasts for long according to reports. Alopecia also known as hair loss is controlled by the application of Pure Shilajit Resin in the mask, and has been proven to have better progressive hair growth results than medical hair shampoo and conditioners.
Pure Shilajit Resin mask is not a single based component. In preparing a good hair mask, the following procedures are to be strictly followed:
In a small amount of water or burdock broth, 0.5 grams of Pure Shilajit Resin, 2 tablespoons of blue clay,  and a few drops of vitamin E from the drugstore should be dissolved.  The prepared hair mask is applied on the hair roots first and then applied on the hair ends. Afterwards for 40 minutes, a shower cap is put on with the hair mask live-in. On completion of 40 minutes, the hair mask is rinsed off the hair with warm water, only shampoo made with Pure Shilajit Resin is expected to be used on the hair.
Benefits of the hair mask are numerous as it strengths the hair, reduces hair loss, increases hair growth, hair is also made soft, silky and shiny.
Due to the embarrassing and extreme nature of alopecia, otherwise known as hair loss. It is advisable to use Shilajit Resin hair mask to promote hair growth and prevent any form of hair issues.
Pure Shilajit Resin is used in a prophylactic way to make the hair strong and it is normally applied weekly or twice in a month. This periodic application of the hair mask is adequate to ensure healthy nourishment of the hair follicles or hair roots, this ensures a stability of hair moisture thus preventing excessive hair oiliness or dryness.
Mask for stimulating the hair growth: In 150 ml of water, dissolve 0.5 grams of Shilajit Resin, then add a half tablespoon of honey, afterwards a few drops of sea buckthorn oil should be added to the mask and then rubbed into the hair scalp. For about 15-25 minutes, a shower cap should be put on with the hair mask live-in. After the time, rinse off hair mask with warm water.
Pure Shilajit hair masks are the best and healthy option for hair growth due to the fact that they are natural, thereby making the hair smooth, reduces hair loss and promotes hair growth.
Shilajit Products
20 grams of natural Shilajit in its genuine purified resin form.

Shipping: $10.00 Standard Int'l Shipping.

Special offer: Buy 3, Get 1 Free!

Stretch Mark Cream 55 ml –

$34.50

 

$27.60

It contains 100% natural ingredients such as Shilajit (5 g), vitamin A, vitamin F, lavender oil, eucalyptus oil, menthol, chamomile extract.

Shipping: $10.00 Standard Int'l Shipping.